There were no results found.
There were no results found.
Hannah Inglesby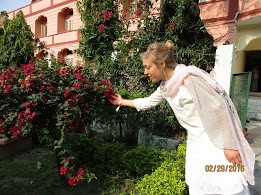 Hannah Inglesby is an RYT 200, certified in Lila Yoga with Erica Kaufman in 2015-2016. For the past ten years, she has worked as an educator, gardener/landscaper, and caregiver. A Centre County native, she attended Warren Wilson College in Asheville, North Carolina, where she earned a B.A. in Environmental Studies ('06). Her community ethic was cemented by the college's Triad program, which includes service, work, and academics.
Having danced and climbed trees her whole childhood, she was excited for the Asheville scene, where she began her study of yoga and danced with the Asheville Movement Collective. She also studied Butoh, a Japanese theatre dance, and performed in her school's annual circus.
During her senior year of college, she was a "karmini" (worker) at a yoga studio in Black Mountain, NC. There, she helped care for the studio in return for free classes and mentoring. After college, she spent two years in an Americorps position at Camphill Village Kimberton Hills, near Philly. It was here that she developed her yoga practice both on her mat and through her service, in a community of 100 that creates meaningful life and work for all who live there, including 60 folks with developmental disabilities.
Her yoga practice has informed her art, interactions, and physical work over the years, whether in a 12-acre CSA garden, in a group-home with The Arc of Centre County, teaching at Shaver's Creek, or now, in her current jobs landscaping at Fox Hill Gardens and assistant-teaching at the State College Friends School. You might also see her writing poems on the spot in public places, riding her bike, or walking a dog.
"I connect with Lila yoga because beauty and community are tops for me. I like the aesthetics of the studio, the spiritual intention, the emphasis on creativity, and the skillful kinesthetic awareness. This awareness has helped me move more gracefully in my life and work (which, to me, are one and the same). I continue to learn that freedom exists in heeding one's natural limits. I learn to engage what needs to be engaged and relax what doesn't. And slowly, very slowly, I am learning to be at peace with who I am."