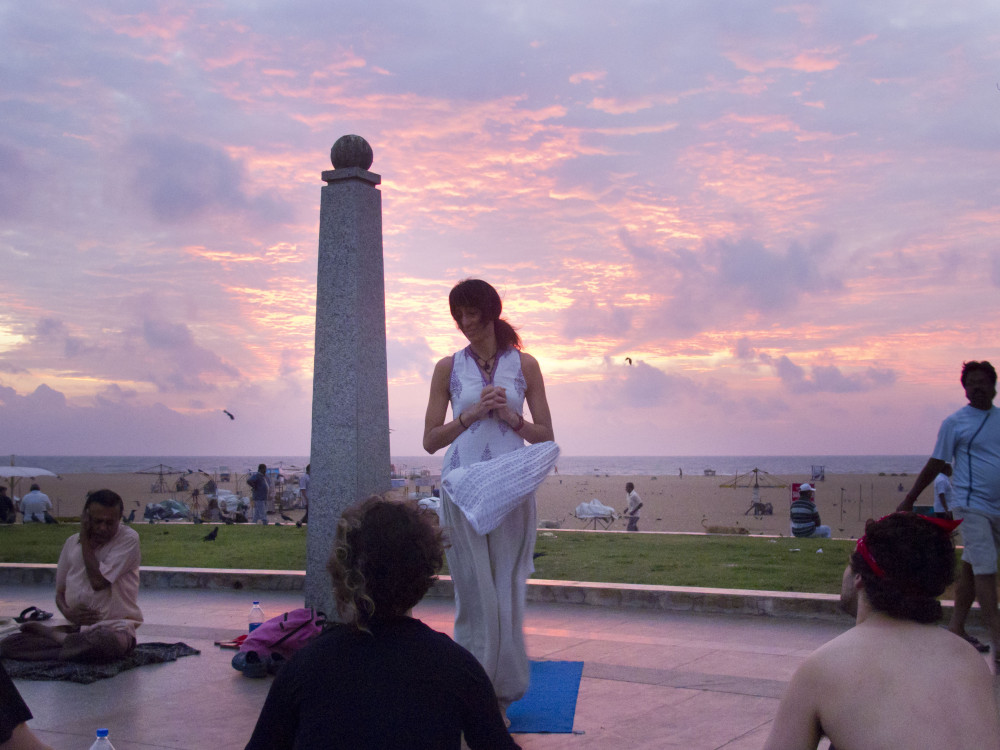 INTERESTED IN JOINING ERICA IN INDIA???
Contact us!!! MORE INFO UNDER PHOTOS
Erica Kaufman, founder of Lila Yoga spends about 3 months each year in India. She teaches, learns, and organizes special opportunities for yoga teachers and practitioners to join her.
Option 1: Chennai, India
 [[This program takes place in Chennai, India. The fee is approximately $1,850 and includes hotels, school group program fees, all tours, airport pick up and drop off, all group transportation within India, one catered meal a day, and one overnight excursion. (does not include airfare or transportation to India)]
The Divine City of Chennai India
December 28, 2019 through January 6, 2020 in the capital of the south. Immerse yourself in the cultural riches of Tamil Nadu in the magnificent Chennai, India. This experience of a lifetime is a spectacular immersion into traditional South Indian life. This experience allows you to study yoga philosophy, asana, pranayama, yoga application, meditation, and amazing lectures at two of the worlds most famous schools the Krishnamacharya Yoga Mandiram and Krishnamacharya Healing and Yoga Foundation.
Each morning, at sunrise, we practice Lila Yoga Sun Salutations on Marina Beach where we are joined by hundreds of people practicing all kinds of yoga from laughter yoga, pranayama, to hatha and meditation. It's a fabulous and joyous way of starting each day.
We then travel by auto rickshaw (fun!) to the world famous Krishnamacharya Yoga Mandiram and renowned Krishnamacharya Healing and Yoga Foundation for classical studies in asana, pranayama, meditation, philosophy, yoga application, and more. These are the teachers of the teachers. Scholars and amazingly inspiring people who have helped teach some of todays most known yogacharyas. Krishnamacharya was the teacher of Desikachar, founder of Viniyoga, and B. K. S. Iyengar, and K. Pattabhi Jois, founder of Ashtanga Yoga. Lila Yoga is also in the lineage of Krishnamacharya's teachings.
We take a two day excursion. Weather permitting we travel to the sacred town Tiruvannamalai, where we hike the holy Arunchala Mountain, meditate in the Ramana Maharshi Ashram and caves (monkeys & all). This magnificent pilgrimage is complete with a visit to the Annamalaiyar Temple-the largest Shiva Temple in India.
The ten days complete with a final day back in Chennai to enjoy and rest as you please–bazaars, henna, ayurvedic massages, Krishnamurti Foundation, Theosophical Foundation.
Option 2: Retreat in Rishikesh
[[This program takes place in Rishikesh, India. The fee is approximately $1600 and includes full participation in IYF and Lila Yoga program, ashram housing, ashram meals, and one daytime excursion. (does not include airfare or transportation within India )]
International Yoga Festival & Lila Yoga
March 1-10 at Parmarth Niketan Ashram. This experience of a lifetime is a spectacular immersion into traditional ashram living in Rishikesh-the sacred and spiritual birthplace of yoga. Each year Erica is thrilled and honored to teach Lila Yoga at the International Yoga Festival. Together we meet and support each other as we participate as a Lila Yoga group in the Festival and the Lila Yoga Journey into Inner Peace. Nuzzled in the foothills of the sacred Himalayan Mountains and on the banks of the Holy Ganges River, Parmarth Niketan Ashram will be our home for 10 spectacular days, as we join the transformational authentic ashram living experience (monkeys & all) and nightly sunset Aarti Ceremonies (with flowers, chants, and sacred flames) on the banks of the holy Ganges River.
IYF features world renowned yoga masters from India and all over the world including. Participants can freely choose from a full array of classes starting as early as 4am (for those of you who are early birds) and continue until just before sunset. Classes range from asana practices, to pranayama, meditation methods, lectures, presentations, and much more.
Lila Yoga Mindfulness Journey into Inner Peace is an opportunity to settle into the slower rhythm of life. To make time to quiet the body/mind/breath into the rejuvenating and calming inner realm of peace.
Parmarth Niketan Ashram is a national treasure. These 10 days here are a powerful and profound way of reaffirming the good. In our daily life we can get so entangled in our minds, and conflicts can seem so real. When we come together to do our yoga practices here, we reinforce our unity and commonality.
Excursion can include a visit to the 'Beatles Ashram, a visit to one of the temples located high in the Himalaya Mountains
INTERESTED IN JOINING ERICA IN INDIA???
Please fill out the form below.