Surya Namaskar Workshop
August 20, 2016

-

August 30, 2016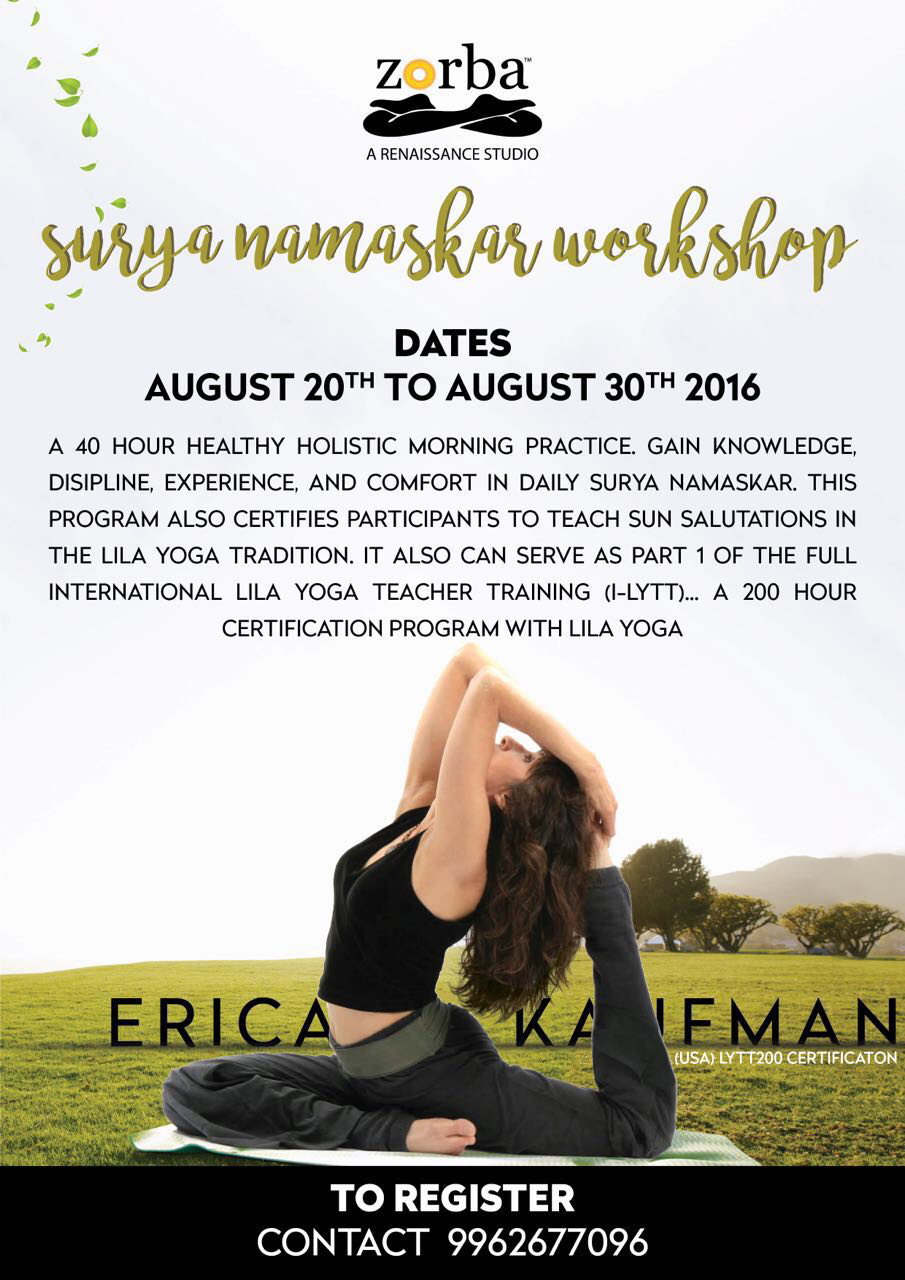 Chennai INDIA LILA YOGA SUN SALUTATION WORKSHOP
August 20-30 at Zorba – A Renaissance Studio.
This ?MAGICAL 45 hour workshop in Chennai ?CELEBRATES? our BODY and our DIVINE ENERGY… Including physical, emotional, intellectual, sexual, and spiritual.
Register Now. Call Ashwini: +91 99626 77096
•August 20 & 21 (Saturday & Sunday) 1-7pm.
•August 22-26 (Monday–Friday) 6-8:45am
•August 27 & 28 (Saturday & Sunday) 1-7pm
•August 29 & 30 (Monday & Tuesday) 6-8:45am
?It is a gentle yet vigorous morning practice devoted to holistic health… A way of awakening & balancing all the elements of who we are so that we can shine with our greatest ??LOVE?BLESSINGS?? each day.
•This workshop is for EVERYONE who wants to experience the POWERFUL PRANA of a devoted morning practice.
•It is also for those who have interest in teaching Lila Yoga Surya Namaskar.
•It is also for those who are interested in working toward full 200 hour teacher training.
?Lila Yoga Surya Namaskar workshop is a beautiful, honest, energizing, inspiring, and respectful way of awakening into our greatest glory.???
Register Now. Call Ashwini: +91 99626 77096