Contact Improvisation Class and Jam with Amie Davis
July 28, 2016 @ 5:00 pm

-

6:30 pm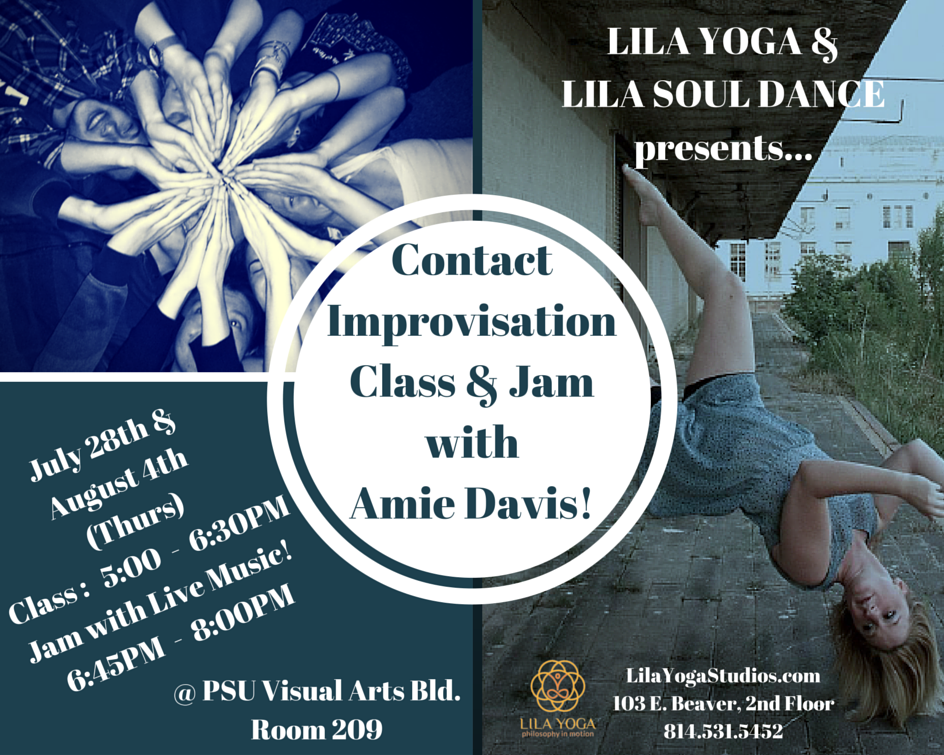 Event/Class Description:
Contact Improvisation explores the vast potential for movement generated by two or more people, communicating spontaneously through weight, motion and touch. Through the physical principles of touch, momentum, and weight sharing, this class explores the skills of falling, rolling, counterbalance, lifting using minimal effort, how to make ourselves light when being lifted, centering and breathing techniques, and responsiveness to our partners and surroundings. Traditional dance backgrounds are not needed.
In the first class I will be teaching low level partnering skills:
o How to release your body weight through another body and into the floor
o How to support your partner from all fours
o How to safely give your own body weight to a partner.
o How to effectively enter and exit duo's/trio's/ or group dances in a jam setting.
In the second class, I will be teaching the Medium and High Level Partnering skills, as well as the importance of falling safely.
• Participants can expect to develop a greater awareness of their own body and of their surroundings.
• Participants should enter the class and jam with an open mind and willingness to try new ideas.
• Participants may learn how to use gravity, momentum, weightedness, and breath to their advantage.
Experience needed:
• All are welcome- no dance experience necessary!
• Attending both the class and jam are recommended, but you can attend either (class/jam).
What to bring:
Water and comfortable clothing
Class Dates/Times:
July 28th & August 4th (Thursdays)
5-8PM (5-6:30PM class, Jam from 6:45PM)
Class Location:
Visual Arts Building, Room 209
Penn State Campus
Class Costs
No pre-registration required
Donations welcome for class and live music at the jam
Drop-ins are okay ($20 per class).
Teacher Bio:

Amie Davis, BA in Dance (Slippery Rock University), MFA in Dance (Texas Woman's University)
Amie Davis holds a BA in Dance from Slippery Rock University and an MFA in Dance from Texas Woman's University, where she was awarded the Excellence in Teaching Award. Currently, Amie is the owner and Artistic Director at Davis Dance Center and is a Professor of Dance at Penn State University. Amie has been a performer for choreographers that are nationally and internationally recognized as professionals in the field. In 2007 Amie traveled to India to teach modern and hip-hop classes and learn a classical form of Indian dance. In 2008 Amie attended CI36 (Contact Improvisation's 36th birthday festival) and has been practicing and teaching Contact ever since.
Host:
This event is hosted by Lila Yoga Studios and Lila Soul Dance