Dance Your Free Spirit: First Underscore in State College with Erica Kaufman
October 9, 2016 @ 1:00 pm

-

3:00 pm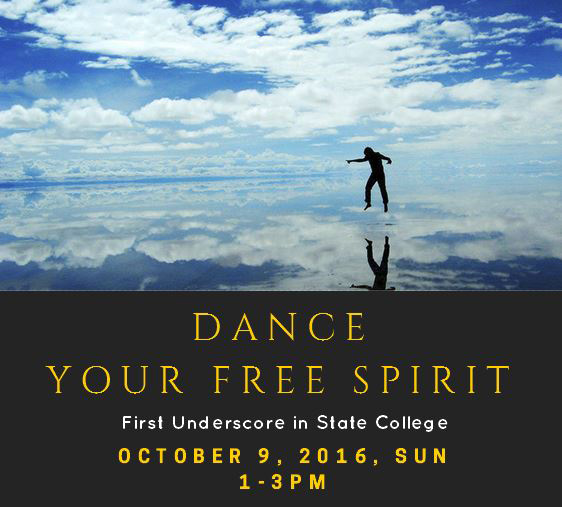 Description:
What is the Underscore?
The Underscore is a long-form dance improvisation structure which began developing in the 1990's by Nancy Stark Smith.
"The Underscore is a vehicle for incorporating Contact Improvisation into a broader arena of improvisational dance practice; for developing greater ease dancing in spherical space-alone and with others; and for integrating kinesthetic and compositional concerns while improvising. It allows for a full spectrum of energetic and physical expressions, embodying a range of forms and changing states. Its practice is familiar yet unpredictable (from: http://nancystarksmith.com/underscore)
What is contact improvisation (CI)?
CI explores the vast potential for movement generated by two or more people, communicating spontaneously through weight, motion and touch. Through the physical principles of touch, momentum, and weight sharing, this class explores the skills of falling, rolling, counterbalance, lifting using minimal effort, how to make ourselves light when being lifted, centering and breathing techniques, and responsiveness to our partners and surroundings. Traditional dance backgrounds are not needed.
Erica Kaufman will provide a talk through of the Underscore (explain the moving states that one goes through in the practice) at 1PM in the library at Lila Yoga Studios. Participants will then transition to the studio space to begin the movement practice.
Participants should enter the Underscore Practice with an openness and curiosity.
Prerequisites or Experience Required:
All are welcome- no dance experience necessary!
What to bring:
Comfortable clothing
Journal to take notes about the Underscore, or to write one's experiences afterwards
Date and Time:
Sunday, October 9th at 1-3pm*
*Talk through of Underscore with Erica Kaufman in the library starts 1PM sharp!
Event Location:
Lila Yoga Studios
103 E. Beaver Ave, 2nd Floor
Downtown State College, PA 16801
Costs:
Register in advance to claim your spot online: https://clients.mindbodyonline.com/classic/home?studioid=31370 (then select the "Workshops" tab at the top of the page. The workshop will be listed.)
Drop-ins okay ($5-15 sliding scale).
Teacher:
Erica Kaufman, MFA, E-RYT500+, owner of Lila Yoga Studios
Erica is a dancer, choreographer, yogini, and a Contact Improviser.
Erica is a life-long student of:
• Krishnamacharya's teachings and studies at Krishnamacharya Yoga Mandiram in Chennai, India
• Krishnamurti's philosophy and studies at Krishnamurti Foundation
• Florence Kaufman, her yogacharya mother who introduced her to yoga
• Dr Clayton McCracken, meditation teacher
More info on Erica:
• Founder of Lila Yoga®
• Holds the Highest Level of Registry with Yoga Alliance
• Practicing since 1975, teaching since 1984 since
• Yoga Journal noted Erica's Lîla Yoga classes with its signature Karma Credit.
• Shambhala Mountain Center faculty since 2005 -offering annual Lila Yoga Retreats
• formal studies in Body Mind Centering, Contemplative Dance, Authentic Movement, Laban Movement Analysis, Bartenieff Fundamentals, Mindfulness Living, Feldenkrais, Alexander Technique.
• Teaching Contact Improvisation since 1989
In 2008 worked with Nancy Stark Smith to coordinate CI36 – the international, once a decade, celebration commemorating the inception of Contact Improvisation.