Lila Yoga Sun Salutations w/ Live Music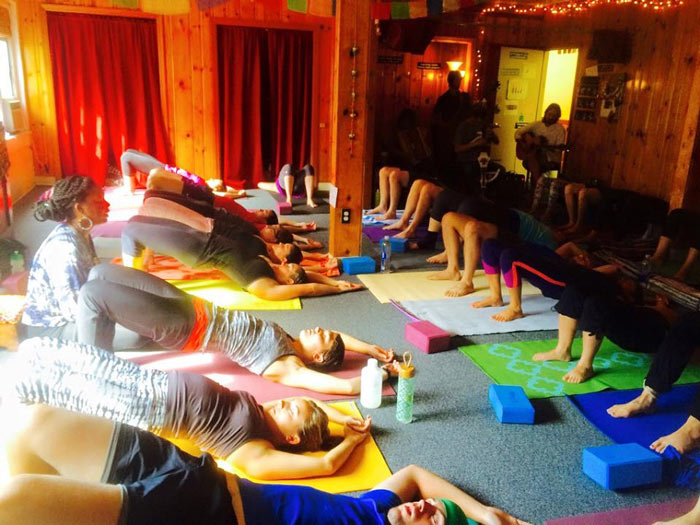 "I don't believe in just having music in a yoga class. I believe that when there is live music, the class becomes one big improv where I, the teacher, am collaborating and co-creating with the musicians and even the students. Together, everyone in the room is co-creating one amazing, colorful, delicious recipe….and that is what makes this class magical.
I never know what is going to happen in a class, but I have learned to trust that when you have so many people moving, singing, and playing music with beautiful intentions, what gets created is always nourishing and meaning for everyone present." -Brandi Rollins, RYT-500
Get out of your jammies and practice yoga with Brandi Rollins (RYT-500) and talented, local musicians as they guide you through a fun, colorful, creative Lila Yoga Sun Salutations class.
Lila Yoga Sun Salutations is a physical yoga practice that is fun, yet challenging, and easy to learn. The practice is designed to invigorate, stimulate, cleanse, and awaken the physical body, while quieting the mind and preparing it to receive the day ahead. And when set to live music, Sun Salutations gains new life and turns into a soulful, freeing, groovy practice.
Live Music Line-up:
Sept 17th – Hops and Vines
Sept 24th – Nate Cutshall (guitar) and Dan Collins
Oct 1st – Kyle Brashers (guitar)
Oct 8th – Eric Burkart (guitar), Josh Troup (drums), and Denise Strayer (accordion)
If you are interested in offering music in this class, please contact Brandi Rollins at [email protected]
Prerequisites or Experience Required:
Beginners to advanced practitioners are welcome. The movements in the class are repetitive, which means that they are easy to learn; however, the class becomes quite vigorous, so be ready to move.
What to bring:
We have yoga mats! Just bring a water bottle and comfortable clothing.
Date and time:
Every Saturday @ 10-11:30am
Event Location:
Lila Yoga Studios
103 E. Beaver Ave, 2nd Floor,
Downtown State College, PA 16801.
Event Costs:
Regular class prices apply! Use your class card, purchase a $20 one-week unlimited pass, OR pay $15 for drop-in. More price info can be found at http://lilayogastudios.com/buy.
Also please bring $2-5cash to donate to the musician(s) for their time
See ya soon! And no pre-registration required, although arrive a bit early to grab a spot.
Teacher:
Brandi Rollins, PhD, RYT-500
Brandi is a Certified Lila Yoga Instructor (RYT-500) and Registered Yoga Alliance Teacher, offering classes at Lila Yoga Studios. She studied under the guidance and teachings of Erica Kaufman, founder of Lila Yoga, and traveled to India where she studied at the Krishnamacharya Yoga Mandarim in Chennai, India in 2012. Brandi is also the author of the award-winning book, Raw Foods on a Budget, a comprehensive guide to affording a plant-based diet, and received her Ph.D. in Human Development and Family Studies at Penn State in 2013. You can read more about Brandi and her teaching philosophy here: http://lilayogastudios.com/teachers/brandi-rollins. You can also learn more about Brandi at www.RawFoodsonaBudget.comand www.BecomingBrandi.com.