Introducing the NEW Lila Community Card!
Get your Lila Community Card! This is a community-based membership card that supports your yoga practice, local State College businesses, and your favorite yoga studio!
***Local Businesses! Interested in joining our Lila Community Card program? Click here.
Lila Community Card Members receive:
10% off* discounts at local businesses (e.g. Websters, Uncle Eli's)
10% off* workshops at Lila Yoga (some exceptions may apply)
Monthly bring-a-friend for FREE cards
*The Community Card cannot be used in combination with any other discount or promotion at local businesses and Lila Yoga Studios.
Here's how it works:
Simply show your Lila Community Card (and ID) at Lila Yoga or at one of the local participating businesses (listed below), when making your purchase.
Get your Lila Community Card:
You will automatically receive a Lila Community Card after purchasing one of the following:
FALL Yoga Passes
Unlimited Lila Yoga for less than $14/week – gain access to 35+ classes/week
Mid-Semester SALE starts Oct. 16th! Save 62% and get your pass for as low as $125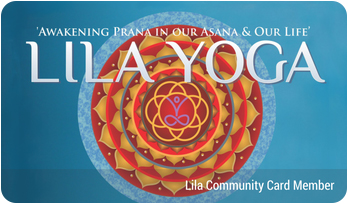 Auto-pay Monthly Unlimited Card
Must be signed up for at least 3 months to qualify for card.
Not sure? Check out our schedule of 30+ high quality Lila Yoga classes!
Lila Community Cards expire when your Fall Yoga Pass ends or upon cancelling your Auto-Pay Monthly Unlimited Card.
*Looking to make a deeper commitment to your yoga practice? Do you find yourself practicing more than twice a week? Our Fall and Spring Yoga passes give you the power to truly commit to your practice.*